C. W. Extrand of Entregris studies the nature of super-repellency1. In the referenced paper, Extrand shows that in addition to lyophobicity (solvent hating) and an adequate topography (such as the one shown below made up of arrays of columns), two additional criteria must be met to have an ultralyophobic surface: the surface forces must be great enough to suspend the liquid against the forces of gravity (which he calls the contact line density criterion); and the topographic features must be tall enough that the liquid does not reach the underlying surface (which he calls the asperity height criterion).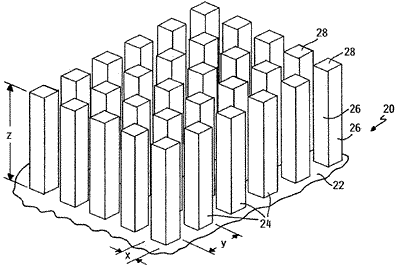 Public domain image from http://www.freepatentsonline.com/6923216.html
The diagram above illustrates the topography of one possible ultralyophobic surface and is referenced in Extrand's US Patent 6923216.
Another recent development in superhydrophobicity is an experimental material called nanopin film. A water droplet on this film forms a nearly perfect sphere producing contact angles as high as 178°. Cassie's law is used to describe the contact angle of a droplet on a composite surface, such as nanopin film. This law helps explain how a rough surface can increase the apparent contact angle.


Cassie's Law
In nature there are numerous examples of hydrophobicity. The most stunning example is the lotus leaf (see image below). In fact, the lotus effect describes the self-cleaning nature of the lotus plant which, ironically, typically grows in swamps and muddy rivers. The leaf never really gets wet due to its microscopic structure and is continually studied by nanotechnologist who seek to understand this amazing phenomenon.

Lotus leaf surface with water droplet (William Thielicke, GNU Free Document License)
1Criteria for Ultralyophobic Surfaces, Contact Angle, Wettability and Adhesion, Vol. 4, pp295-305.