Last year we introduced a Certified Fixed (Sessile) Drop Calibration Reference Tool (p/n 100-27-03) which replaced our legacy fixed drop tool. See January 2009 Newsletter for details. This product was designed to provide our contact angle goniometer customers with a way to check the integrity of their setup and method. If the instrument is calibrated, working properly, and used correctly, then the measured results should be within a prescribed range and typically very close to the nominal 30°, 60°, 90°, and 120° contact angles. This tool has become popular with our contact angle customers.
Several of our tensiometer customers have requested a similar tool but with pendant drops which can be used to measure surface tension. Thus we have developed a new product, the Certified Fixed Pendant Drop Calibration Reference Tool (p/n 100-27-05). This tool consists of (10) different pendant drops which represent liquids from water (with surface tension of 72.8 mN/m) to 1-Nitropropane (with a surface tension of 29.40 mN/m). The various pendant drops are shown below. Like the sessile drop tool, this product will ensure that the equipment is setup and calibrated properly and that correct measurement procedures are being used. This tool is designed to be used with any current version of DROPimage Advanced.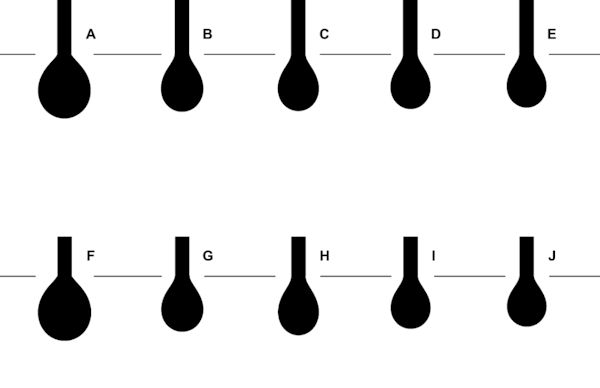 The key advantage to a fixed drop tool is that the results are not subject to contamination, evaporation, change in humidity and other environmental variables. If the user obtains results outside of the acceptable range, the reason can be easily traced to the calibration or the method used for measurement. The video below shows how a simple experiment is created using the Experiment Wizard in DROPimage Advanced and then the surface tension of drop "A" is measured. If you have any trouble accessing the video from your newsletter, click here to run it in your browser:
http://www.youtube.com/watch?v=YpaKmOusXos The same experiment can then be run on each of the remaining (9) drops.
ramé-hart DROPimage utilizes the pendant drop and sessile drop methods for measuring surface and interfacial tension. DROPimage Advanced employs a proprietary edge tracing technology to precisely capture and analyze the drop dimensions and profile characteristics in order to accurately calculate the surface tension of a liquid using the Young-Laplace equation.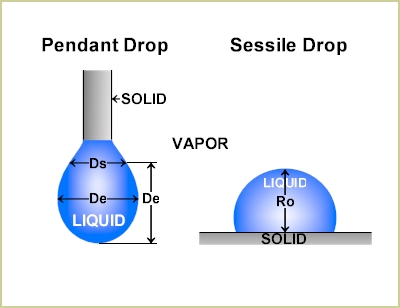 The Certified Fixed Pendant Drop Calibration Reference Tool (p/n 100-27-05) can be ordered at our online store www.ramehartstore.com.