Over the past few months we've been busy working on our DROPimage Advanced software and with the release of v2.5 last month, we now support the high speed GigE interface. Additionally, we've also made major changes to our code to support high speed video and a variety of new Codecs for compressing large video files. With the software support in place, we are now pleased to announce two new High Speed Upgrade Kits. But first we must ask the question: Why does someone need faster-than-normal video? A system with high-speed video is well-suited for a variety of special applications - a few of which we will outline below:
First, drop formation. Increasingly, surface scientists are becoming interested in capturing the contact angle of a sessile drop at the moment of formation and watching how it changes in the first few seconds, or sometimes, in the first few milliseconds, as the drop establishes contact angle equilibrium. This type of study can easily be done with a High Speed Upgrade Kit installed using the DROPimage Advanced Trigger command.
Second, have you ever spilled some coffee and came back later after it's dried and you noticed the perimeter of the stain is darker? If not, check out the picture below. The explanation for this behavior is pinning. As the drop of coffee dries, the three-phase line remains pinned or static. As the drop loses volume through evaporation, the particulates in the liquid ride down and are deposited along the contact line. This accounts for the disproportionate concentration of dried coffee along the perimeter of the stain.
The converse of pinning is dewetting. As shown below, dewetting results in a reduction in the diameter of the three-phase line as drop volume decreases. However, what really often happens as drop volume is reduced, even when there appears to be dewetting, is the three-phase line does not smoothly contract at a steady pace. Rather, the contraction can be described as a series of slips and sticks. Observing this behavior can be facilitated with a high speed camera option which can capture the successions of pinning and dewetting behaviors on a drop that is losing or gaining volume. These types of experiments can also be greatly automated with the ramé-hart Automated Dispensing System which can be programmed to add and remove volume in precise steps as small as 0.02µl.
Third, researchers working on new superhydrophobic materials like to study the Cassie-to-Wenzel transition via the contact angle. In the Cassie State, the drop sits above the asperities with air voids in the nooks and crannies below. In some cases, the liquid will slip off the peaks and begin to occupy the valleys below marking the start of the Cassie-to-Wenzel transition. See graphic below. This activity typically begins at the center of the drop and propagates out toward the three-phase line, even extending beyond the contact line in some cases. The entire transition from Cassie to Wenzel can happen in a few milliseconds. Since the apparent contact angle changes significantly between the two states, researchers often use change in contact angle to identify this transition. By capturing the transition at high speed, researchers can learn more about the different wetting states and the dynamics of the transition from one wetting state to another.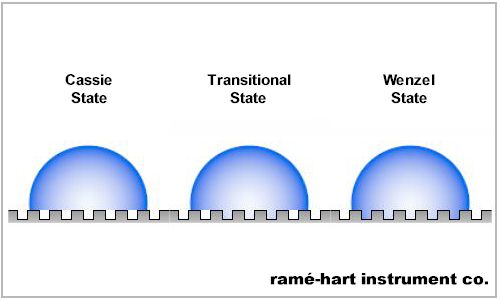 Fourth, another study that benefits from high-speed video capture is absorption. In the case of semi-porous materials, a liquid sessile drop may exhibit contact angle that decreases as a function of time and in proportion to the rate of absorption. The faster the rate of absorption is, the faster the camera must be to accurately measure the change.
There are myriad other applications for high-speed video but, in short, high-speed video is particularly beneficial to researchers who wish to better understand and characterize surfaces which exhibit dynamic wetting behavior as a result of absorption, evaporation, wicking, or changing from Cassie to Wenzel wetting states. Moreover, a wide spectrum of additional studies can be conducted at high speeds - including dynamic surface tension and interfacial tension measurements as well as oscillatory studies used to understand surface dilatational elasticity and viscosity.
The first new ramé-hart high-speed upgrade kit will increase the speed of any new Model 250, 290, 500, or 590 from 60-70 fps (frames per second) to 210 fps. The kit includes not only a high speed GigE digital camera but also a high-performance workstation with upgraded processor and additional memory which are necessary to process data collection and processing at high speeds. Currently, that system is a Dell Precision T1500 with an Intel Dual Core Processor i5-650 (3.2GHz with 4MB Cache), 4GB Memory, 320GB Hard Drive, 128GB SSD Drive, a secondary Intel PRO/1000 NIC, and Windows 7 Professional 64-bit. Over time this configuration may be upgraded or changed. The advanced workstation, high-speed camera and DROPimage Advanced v2.5 provide the perfect platform for high-speed dynamic studies. Order p/n 100-12-G1 if you are also purchasing a new Model 250, 260, 290, 500, or 590 and wish to upgrade to high speed. Use p/n 100-12-G1-UPG to upgrade a recent F1 or F4 Series instrument. Older systems can also be upgraded but may need additional parts. Please contact us for pricing and details.
In addition to the new 210 fps High Speed Upgrade Kit, we also have a more affordable 120 fps High Speed Upgrade Kit, p/n 100-12-F3. This kit upgrades the camera on any new system with DROPimage Advanced to our F3 Series digital camera with FireWire interface and speeds up to 120 fps. No PC processor or memory upgrades are included or necessary to achieve speeds at approximately double our standard speed. Older systems can also be upgraded. Please contact us for pricing and details.