SUCCASUNNA, NJ, May 1, 2013 - ramé-hart instrument co. announces the release of a new product, the Peltier Environmental Chamber Model 100-30. For studies that require both chilled as well as elevated temperatures, this device provides powerful flexibility. A multistage Peltier thermoelectric cooling module is employed to quickly and accurately reach chilled temperatures down to -50° C. For temperatures above ambient, the DC current is reversed and elevated temperatures up to 150° C can be quickly reached and held.
The Peltier module is rated for 100,000 hours of use providing many years of reliable service. By using a multistage module, the ramé-hart Peltier-based chamber is able to reach chilled temperatures significantly lower than any competitor as well as the industry's widest temperature range -- 200° C from coldest to warmest.

ramé-hart Peltier Environmental Chamber (p/n 100-30)
There are no moving parts in the Peltier module making it long-lasting and reliable. A chilled water pump is used to take away the heat produced by the thermoelectric module during the chilling cycle. A gas inlet permits a nitrogen purge in order to prevent frozen condensation during chilling cycles. The chamber also supports the standard Quartz Cell (p/n 100-07-50) for liquid/liquid studies and to add to permit a gas-lined double-wall setup to further reduce condensation if needed.
Rubber septum stoppers are used to permit a sealed entry point for the dispensing needle. An adapter is also included for using the Peltier Environmental Chamber with the Automated Dispensing System (p/n 100-22).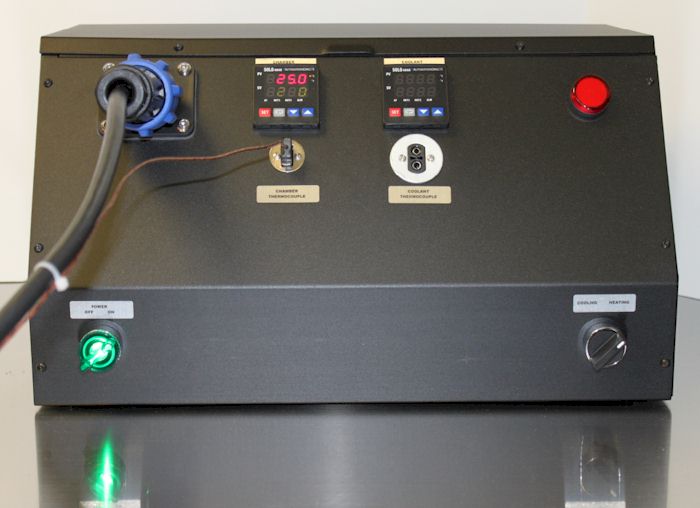 Controller supplied with Peltier Environmental Chamber 100-30
A robust controller is also part of the setup. The controller permits switching between chill mode (below ambient) and elevated temperature mode (above ambient). The desired set point can also be selected from the controller or in our DROPimage Advanced software (v2.7 or higher). A secondary controller is used to monitor the chilled water to ensure that it does not become too warm.
Our latest update to DROPimage Advanced (v2.7) now includes a utility for adjusting the set point directly from the software. In addition, DROPimage Advanced can now log the temperature during any methods-based experiment.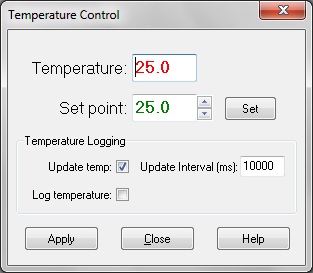 Temperature Control Dialog in DROPimage Advanced v2.7
While the new version of DROPimage adds powerful integration with the Peltier Environmental Chamber including temperature control and logging, the software is not required for its operation. In fact, the Peltier Environmental Chamber is supported on ANY ramé-hart instrument. When DROPimage Advanced v2.7 is not present, the set point can be easily controlled from the controller.
The Peltier Environmental Chamber is a welcome addition to ramé-hart's lineup of modular accessories and options for the goniometer and goniometer / tensiometer products.