We get a lot of questions here. Questions about contact angle; questions about our instrument products; questions about shipping costs to Kalamazoo. Some questions we get a lot. So, this month I will answer all of the most common ones. One of them may be yours.

Which model measures contact angle?
They all do. From Model 190 to Model 790, every one of our instruments can measure contact angle. However, as you move up the product line, additional types of measurements (e.g., surface energy and surface tension) can also be made. A greater degree of automation is also available on higher end models.

If I'm interested in basic wetting properties, why do I need anything beyond the most basic system?
For static contact angle, Model 190 may be sufficient. However, by moving to Model 200 or higher, you gain a number of surface energy tools. By measuring contact angle using two or more liquids and then calculating the surface energy, you can obtain a more comprehensive picture of the surface properties. Likewise, by going with a more automated system such as Model 290 you can measure advancing and receding contact angle, roll-off angle, and contact angle hysteresis which offer an insight into surface homogeneity with regard to both chemical as well as structural composition.

Where are your instruments made?
Here in the USA.

How long have you been around?
Since 1961, which is longer than I've been around. We were originally in Mountain Lakes, NJ and since 2011 have been at our new facility in Succasunna, NJ.

Do you sell overseas?
About a third of our instruments are shipped to customers outside of the United States. In many foreign regions we have sales agents who help our customers locally before and after the sale.

Who invented the ramé-hart goniometer?
That would be Dr. William A. Zisman who worked for the Naval Research Lab (NRL) from the late 1930s into the 1960s. The first ramé-hart contact angle goniometer was aptly named the NRL Contact Angle Goniometer. More on Dr. Zisman here: http://www.ramehart.com/newsletters/2009-09_news.htm.

I used a ramé-hart instrument in college some 25 years ago. Is that model still available?
You are likely referring to our ubiquitous Model 100-00 which we made thousands of over a span of more than forty years. It used a microscope for measuring and was a manual tool. We discontinued Model 100-00 some ten years ago because the level of precision and automation that can be obtained from our current-generation camera-based software-controlled tools is so far superior to the manual system, that it's no longer a viable and competitive alternative to our current products.

Do you have an environmental chamber?
Yes. In fact, we now have a variety of chamber options for specific tasks. Our standard Environmental Chamber 100-07 offers temperature control up to 300° C. For chilled environments, we have a Peltier Environmental Chamber 100-30 which can be controlled down to -50° C and at elevated temperatures up to 150° C. Our Advanced Chamber 100-26-TH can control both humidity and temperature. We now offer a Hot Plate 100-33-HP and Heated Environmental Cell 100-33, both can be controlled up to 300°C. To compare the different chamber options, see the product matrix on this page: http://www.ramehart.com/chambers.htm.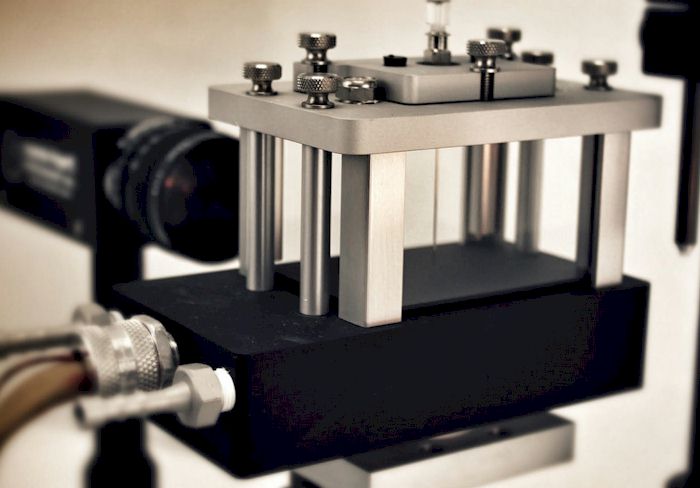 ramé-hart Heated Environmental Cell 100-33
What kind of water should I use for contact angle measurements?
Pure deionized water.
How do I know if it's pure?
The easiest way to check this, if you have Model 250 or higher with DROPimage Advanced, is to simply measure the surface tension of the test water. If it measures close to 72 mN/m, it's good. If it's significantly lower, it could be contaminated. Clean your syringe thoroughly and try new water.
What's the best way to see the DROPimage software in action?
Short of having an instrument in front of you with someone to demo it for you, the best way to see DROPimage in action is to check out our video series on YouTube here: https://www.youtube.com/user/ramehart/videos.
Why should I buy from ramé-hart?
We were the first company in the world to make a production model contact angle goniometer and we have over fifty years experience doing so. We do nothing else - just contact angle, surface energy, surface tension, and related surface measurements. Despite our extensive wealth of experience, we continue to innovate and work hard to bring you the best possible user experience. All of our instruments are highly modular and upgradeable. We have the widest possible catalog of accessories for common and more specialized tasks. We take quality and customer service very seriously. Each day we work hard to earn your business and keep you as a customer now and for the next fifty years.
I want to buy a contact angle goniometer. How do I go about that?
First, check out our product matrix here http://www.ramehart.com/goniometer.htm. Next, check out the available accessories. If you have any questions at all, call or contact us and we'd be happy to help you decide on the best model for your application. When you are ready, contact us again for a formal quotation for the model and accessories you've decided on. Forward the quotation to your purchasing department so they can prepare a purchase order.