Many superhydrophobic surfaces exhibit very limited wetting due to surface roughness. Liquid deposited on these textured surfaces sits on the top of the surface asperities in what is referred to as the Cassie-Baxter state. In the Cassie state, there are pockets of air trapped in the valleys of the surface below the drop. In this state, the apparent contact angle is typically much higher than if the liquid falls down and into the valleys in what is referred to as the Wenzel state. See graphic below.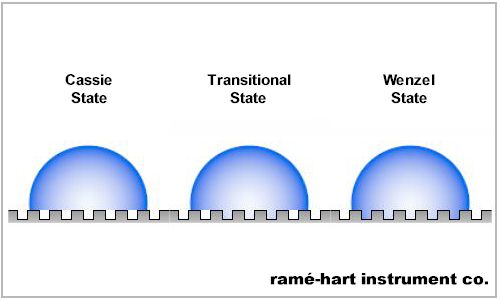 Cassie to Wenzel Transition States
In some cases, a drop in the Cassie state will fall down into the surface and transition to a Wenzel state. This is often referred to as a wetting transition. When this occurs, the contact angle typically will drop noticeably.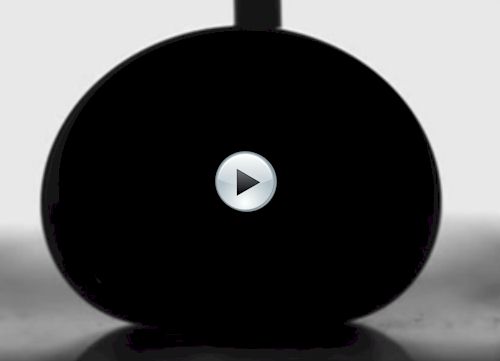 Video showing Cassie to Wenzel Transition
https://youtu.be/zdmKLL24Kgk
The above video shows how quickly this transition can occur. Pay attention at 12 seconds. In addition to the contact decreasing, the three-phase line also increases in diameter.
Researchers suggest that the Cassie to Wenzel transition results from a nucleation mechanism that begins at the center of the drop in what is referred to as a "mushroom state". See the center state in the topmost graphic. The wetting transition can result from external stimuli such as vibration or change in temperature, pressure or other environmental conditions. The Cassie to Wenzel transition is from a high energy state to a lower-energy state and is (almost always) irreversible. In some cases, the drop will not only penetrate the surface but will spread beyond it. Since the surface is considered absorptive due to its roughness, the spreading behavior is referred to as "hemiwicking". Researchers who design superhydrophobic surfaces are interested in tuning their surface designs to promote maximum contact angles but reduce wetting transitions.
The Cassie to Wenzel transition is just one example of a behavior that happens too quickly to observe with the naked eye. There are a number of other behaviors that can happen quickly - e.g., dynamic wetting, absorption, pinning and dewetting, wicking, and oscillation. For this reason, we have upgraded our high-speed camera options. We are now pleased to announce a new SuperSpeed camera that more than triples the speed of our previous G1 Series high-speed camera. More on that below.