The story above about generating electricity from the ocean's waves is an example of a novel application. Below we detail a half dozen applications for contact angle and surface tension researchers working in the energy sector - in no particular order:

1. Oil producers are increasingly using fracking to extract petroleum and natural gas from shale reservoirs. By carefully lowering the surface tension of the fracturing fluid using surfactants, desorption can be enhanced and productivity can be optimized.

2. Solar fields can potentially augment the power generated by other sources. Hydrophobic coatings that provide self-cleaning properties on solar panels improve efficiency by keeping the panels working at full capacity and at lower maintenance costs.

3. Power lines plagued with icicles can lower grid reliability and increase infrastructure maintenance. By using an icephobic coating, power lines can be made to repel the buildup of ice during winter months.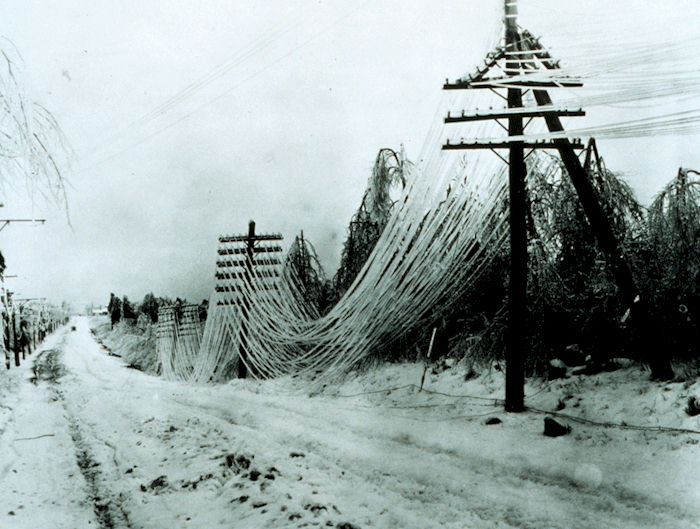 Power Lines in the Winter circa 1930
4. Just as icephobic coatings can benefit power lines, they can also improve the efficiency of wind turbines in cold climates. PTFE-based coatings can add both icephobic and hydrophobic benefits to blades by lowering the surface energy.
5. Coal is one of the world's most prevalent nonrenewable energy sources. However, mining coal can present some challenges and hazards. Explosions and pneumoconiosis, sometimes called "Black Lung Disease", are two such hazards which can be reduced by controlling coal dust in the mines. Scientists measure the water contact angle on coal to better understand what surfactants can be added to water to provide an effective dedusting spray formula used by dust scrubber systems.
6. Commercial window coatings are experiencing a renaissance. Low-emissivity glass is coated with layers of silver between layers of antireflective metal-oxide which are optically transparent but allow the visible light through while blocking the dangerous UV light. By controlling the wavelength, spectrally selective glass coatings can allow the light in but not the heat. Thin coatings of titanium dioxide increases the surface energy of glass allowing the surface to become so hydrophilic that rain will not bead up but rather spreads out flat carrying with it contaminants as it slides off in sheets. The glass dries without any spotting. Today's windows are more than a sheet of glass. Innovative coatings improve self-cleaning properties as well as lower energy and maintenance costs.
If you are working on an energy solution that requires a precise understanding of wetting properties or surface tension, we can help with instrumentation needed to quantify those metrics. We've been doing so since 1961.