This month our objective is to detail ten things you should keep in mind when selecting a prebuilt or custom coaxial needle. Here goes:

1. Many applications can use one of our prebuilt coaxial needles. We currently offer seven different sizes. The 22/18 is the most popular. We also offer a prebuilt triaxial needle and a prebuilt quadaxial needle. All prebuilt products are kept in stock and ready to ship. For reference, approximately 50% of our spinneret sales are prebuilt models which are also less costly than the custom versions.

ramé-hart Prebuilt Coaxial Needle p/n 100-10-COAXIAL-1410
2. Spinnerets should be thoroughly cleaned after use. The easiest way to clean a spinneret is to disassemble it and then clean the separate parts. Here are the disassembly instructions. We now offer a disassembly wrench and cleaning wire kits. Cleaning wires and our Precision Needle File are useful for clearing clogged needles and keeping them free from buildup and contaminants.

Coaxial Needle Disassembly Instructions
3. If you are designing a custom coaxial needle (see worksheet here), you will want to make DIM F as short as possible - especially for high gauge inner needles (e.g., 26-28g). The longer a high gauge needle is, the more likely it is to get clogged. We recommend a DIM F of 10mm for high gauge needles when possible.
4. Some customers use a coaxial needle with a single spinnable material coming out the the inner needle. For the outer flow, they use a gas flow. This is done to reduce clogging, improve the evaporation of the solvent, and better control the environmental conditions such as temperature, humidity, and flow parameters. An outer gas flow can also facilitate liquids with higher viscosities.
5. Coaxial electrospinning can be used with two liquids to produce a core and sheath. The material with the best spinnability should generally be used as the core. It's also possible to use two liquids that are spun side-by-side. For this application, you will want to use a side-by-side spinneret. We offer both a Prebuilt Side-by-side Spinneret as well as a Custom Side-by-side Spinneret.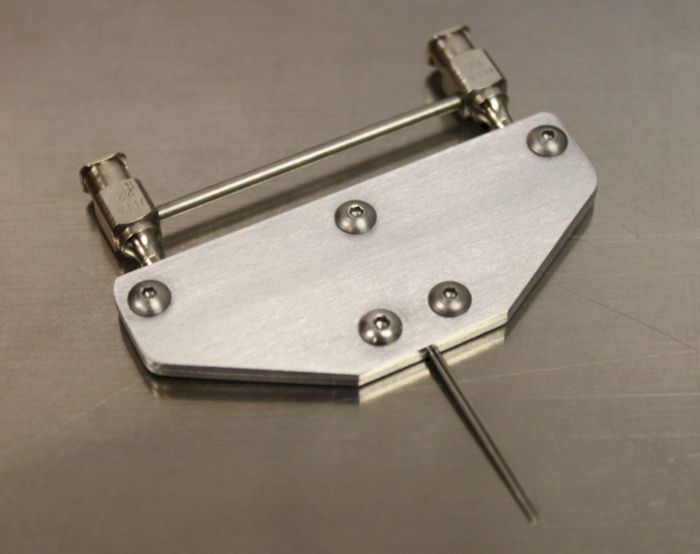 Prebuilt Side-by-side Spinneret p/n 100-10-PBSBSS
6. If you would like to add a sheath to a side-by-side pair of nanofibers, this can be accomplished with our Island-in-the-sea Spinneret which is available in a prebuilt or custom configuration.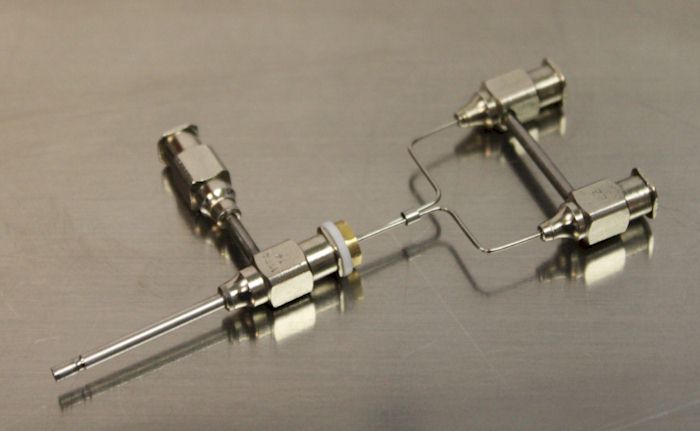 Prebuilt Island-in-the-sea Spinneret p/n 100-10-PBIITSS
7. If you're interested in producing many nanofibers at the same time, you should consider a custom spinneret array. We can make a custom linear, rectangular, or circular array to your exact specifications.

Custom Linear Array (built to customer's specifications)
8. A square tip is required to produce a good Taylor cone. Note that all ramé-hart spinnerets include a square tip by default. However, we also offer on our custom coaxial, triaxial, and quadaxial needles, a beveled tip option. To see what it looks like, see the image below. Studies have shown that a beveled tip increases the likelihood of producing only a single jet stream - especially at high flow rates.

Beveled Tip Option (shown on a triaxial needle)
9. Increasing the needle gauge (which translates to a smaller diameter) will decrease the the fiber diameter. However, decreasing the gauge (i.e., using a larger diameter needle) does not always translate to a larger diameter but may result in the formation of multiple jet streams - which, in some cases, may be favorable.
10. When selecting a spinneret, it's also important to select a reliable supplier. ramé-hart instrument company is the world leader in custom spinnerets. We've made thousands of prebuilt and custom spinnerets, arrays, and custom configurations for every imaginable application. Our products are top quality, handmade, incredibly durable - able to be used hundreds of times, and highly customizable. We use only the finest polished stainless steel tubing. All components are held to the highest standards and every product is individually inspected and tested prior to shipment. In short, when you buy a ramé-hart spinneret, you are buying quality. Note that our spinneret products are not intended for medical applications where regulated by FDA requirements.