Michael Gallo was born in Padula, Italy in 1876. At the age of 16, he immigrated to America and settled in my hometown of Netcong, New Jersey. He became a citizen of the United States in 1899 at the age of 23 which is about when the picture below was taken.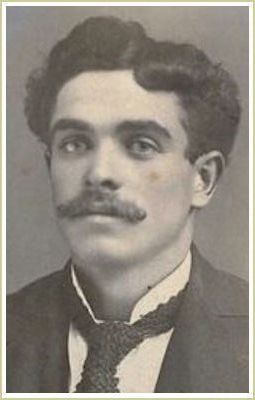 Michael Gallo as a young man

He and his brother John were stonemason contractors and builders. Their company, the Gallo Brothers, built many beautiful stone structures in and around Netcong over a 40-year period: churches, government buildings, a theater and some houses.

Gallo Brothers Business Card from early 1900s
One of the most impressive structures in all of Netcong is known as the Gallo House. It was built in 1905 by the Gallo Brothers and became the personal residence of Michael and Mary Gallo who raised their children in the house and resided there for over six decades.

1910 Photograph of the Gallo House in Netcong, NJ
In 1904 while quarrying stone a few miles west of Netcong, Michael Gallo lost his right arm in a blasting accident. Despite the setback, the house was finished on schedule and was one of first houses in the area to have electricity. (Netcong was electrified in 1904.) You may have heard the saying, "They don't build them like they used to." This home stands as a testament to that reality. The cut granite stone is 20 inches thick at the base and 15 inches at the roofline. We calculate that the stonework alone weighs in at just shy of 400 tons. The interior was finished to the highest level of old world craftsmanship. I'm rather partial this to beautiful house since my family and I have had the privilege of living in it for the past 17 years.
Michael Gallo and his brother were master masons. Their structures - still standing and in use today over 100 years after construction - are a tribute to the quality of their materials and workmanship.
We may think that not much can change when it comes to stone and cement and masonry techniques. However, many novel innovations have been introduced to the universe of cement mixtures in the past couple of decades. One such discovery is the addition of hydrophobic agents to Portland cement with an effort toward preserving it during transport and prior to mixing. Stearic acid, for example, which is extracted from animal fats and oils through a process called saponification, is used in small quantities to protect finely ground Portland cement particles from premature hydration and to preserve the cement's integrity during prolonged storage prior to use. This type of cement is also referred to as hydrographic cement.1
Metals such as calcium can be added during grinding in order to produce a water-resistant Portland cement. This practice not only promotes lower wetting but will also reduce porosity.
Concrete, which is a composite material made up of cement with an aggregate and used for applications such as sidewalks, bridges, parking garages, and building foundations, can also be made hydrophobic. Untreated concrete is hydrophilic and porous by nature. Water can seep into the nooks and crannies and this can lead to premature deterioration - especially in freeze/thaw environments.
Polymer additives and other hydrophobic admixtures can greatly reduce wetting of concrete and also seal the tiny capillaries where water enters. Polymerization of an admixture occurs due to ion exchange with metal ions such as calcium and iron which results in rubber-like particles that plug the capillaries and increase the water contact angle at the solid surface. Hydrophobic admixtures have only been used in the United States for the past 20 years. In addition to the obvious water-repellency properties of hydrophobic cement, the steel rebar is also protected from oxidation and corrosion.2
Hydrophobic concrete eliminates the need for external membranes when total water repellency is required. In many applications, it lowers project costs, and will extend the life of the structure. It also sets up faster, can be painted or treated sooner, is recyclable and green friendly.
Recently, our office neighbor had a portion of their sidewalk replaced with hydrophobic cement. When it rains, the water beads up as shown in the image below. The surface is not only hydrophobic but completely non-porous. This prevents deterioration, increases performance, and lowers the lifetime cost of the structure.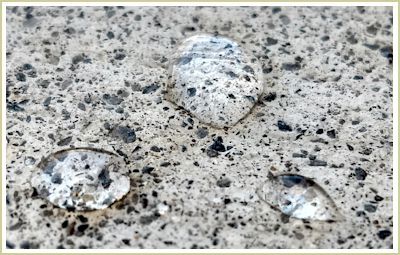 Hydrophobic Cement Sidewalk
The next time you go walking in the rain, take a look down at your sidewalk and see how hydrophobic it is. If it's a new sidewalk, you may see droplets beading up.
What would the Gallo Brothers think of hydrophobic cement and concrete? I think they would not only embrace the idea, but enthusiastically use these new materials in their masonry construction projects.
1 For more on hydrophobic cement, see this article.
2 Hycrete is an example of a commercial admixture used to make hydrophobic concrete. More here: https://hycrete.com/products/how-hycrete-products-work/.