A new surface science term has surfaced - which happens often as we discover new ways to understand wetting and related behaviors. The term is intrinsic wetting threshold.

Let's start with what we already know. Wettability, as measured by contact angle, is traditionally described using Young's equation, which assumes an ideal and perfectly smooth surface. The surface is classified as hydrophilic or water-loving if the water droplet spreads out to a contact angle less than 90 degrees. The surface is classified as hydrophobic if a water droplet makes a contact angle greater than 90 degrees.

Young's model, however, does have some limitations in explaining observed behavior of liquids in contact with solid surfaces. It cannot, for example, explain why water contact angles increase after roughening surfaces, which can be described using more involved Wenzel and Cassie models.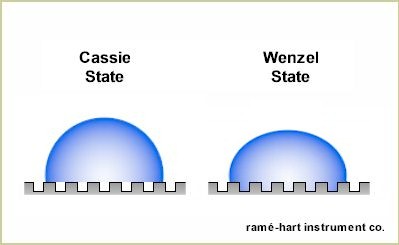 Researchers in China have taken yet a new look at wettability.1 They examine wetting behavior from an intermolecular force perspective. Solid samples are immersed in a pure liquid, say water for example, and then the interactions at the molecular level are studied in order to determine the intrinsic wetting threshold - or, in other words, the point at which the liquid will either wet out or bead up. In a study, solids with single-molecule thick self-assembled monolayers were immersed in various pure liquids. An atomic force microscope was then used to measure the force curves to understand the adhesive forces between the surface and the liquid. A contact angle goniometer was used to measure the contact angle using traditional drop shape analysis.
The results were surprising. Young's model predicted that the intrinsic wetting threshold for water would occur with a contact angle of 90°. However, the intermolecular force method determined that the balance between hydrophobicity and hydrophilicity (i.e., the intrinsic wetting threshold) occurs at a contact angle of 65°.
This ground breaking research sheds light on the relationship between wettability and intermolecular force and invites further investigation to better understand methods for measuring the intrinsic wetting threshold and applying its value to solving real world problems.
Notes