The most common method for bioprinting two materials simultaneously is via coaxial extrusion in a core/shell configuration using different bioinks. In some cases, the outer shell is sacrificial while the core material is cell-laden. In other configurations, both the core and shell contain cultures. And in yet other cases, the core may be hollow while the shell is cell-laden.

By using a multi-lumen coaxial needle, it's possible to extrude a number of filaments all surrounded by a single shell. See the examples below of multi-channel coaxial needles.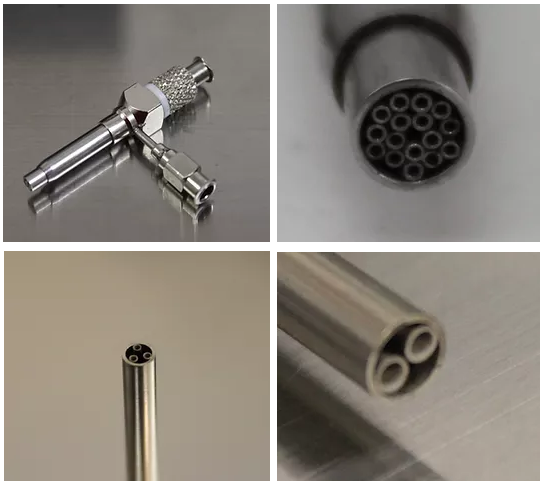 ramé-hart Custom Multi-Channel Coaxial Needles
The bioinks used in coaxial bioprinting include cell-laden materials, sacrificial (non-cell-laden) materials, hydrogels, and crosslinking solutions. It's possible to create nanotubes by using a crosslinking solution for the inner flow. By using a triaxial or quadaxial needle, it's possible to add additional layers of material. Multilayered filaments, for example, can be designed to emulate tissue found in vascular systems and other similar structures. The types of bioinks can also affect the success of the design. For example, the viscosity and needle gauge will drive the required extrusion pressure. If the required extrusion pressure exceeds the capacity of the pump, the coaxial extrusion may fail if an external pressure pump is not added to the setup.
It's not surprising then that materials with lower viscosity often will work best. Thickeners made from nanoparticles should also be used with caution as they increase the risk of clogging. If clogging does occur, all ramé-hart coaxial needles can easily be disassembled for cleaning following the instructions at this link. You will also need a disassembly wrench and cleaning wires.
Flow rates and pump pressure settings should also be considered as these will determine the relative diameters of the core and thicknesses of the shell components and additional layers. Trial and error is likely to be required to find optimal results in many cases.
If your bioprinting application requires a special coaxial needle such as a multi-channel design, or anything that falls outside of our prebuilt or custom coaxial needle designs, don't hesitate to contact us with your specifications. We specialize in special orders.